Daniel Island Homes For Sale
Situated on 4,000 acres of fishing and hunting land, Daniel Island in Charleston continues to thrive as an ever-growing community. With excellent schooling opportunities, a charming downtown waterfront setting, a variety of restaurants, and alluring recreational options such as golf courses and tennis clubs, residents can enjoy the perfect balance between modern convenience and traditional Lowcountry culture. Should it be by car, bike, or foot, those inhabiting the region can meander through its extensive network of trails while marveling at the stunning footbridges they come across.
You may also want to check Hanahan SC Homes For Sale.
Daniel Island Residential Listings
September 30, 2023
$2,220,000
Med. List Price
Daniel Island Residential Listings by Price
Daniel Island, SC Homes for Sale
If you're looking for a new home, Daniel Island, SC is an ideal destination. Located in the Charleston area of South Carolina, this beautiful island offers the perfect mix of big-city amenities and small-town charm. Whether you're looking for a waterfront property or a traditional single-family home, Daniel Island has something to offer everyone. With its vibrant downtown areas, world-class golf courses, and stunning beaches, it's easy to see why this charming oasis is becoming so popular.
Historical Facts of Daniel Island, SC
Daniel Island is a 4,000-acre master-planned community located in Charleston, South Carolina. The island was once owned by the family of John C. Calhoun, one of the first vice presidents of the United States. In the early 1800s, the island was used as a summer retreat for wealthy families from Charleston. In 1874, Daniel Island was bought by George W. Williams, who developed it into a thriving plantation.
The Civil War brought an end to the plantation era on Daniel Island, and the island was abandoned for nearly 100 years. In 2001, Daniel Island was purchased by developers who began to build a new master-planned community on the island.
The island is also home to a variety of historical sites including the Old Pitt Plantation House, which was built in 1825 and is now a museum. Other notable landmarks on the island include the Daniel Island Clubhouse and the Church of St. John's Parish, which dates back to 1719. In addition, there are several monuments dedicated to Revolutionary War heroes who once lived on the island.
Buying Daniel Island Real Estate
Daniel Island is a beautiful place to live, work, and raise a family. The island offers something for everyone, from its tranquil parks and playgrounds to its lively restaurants and shops. And, of course, it's stunning homes for sale.
If you're thinking of buying a home on Daniel Island, there are a few things you should know. First, the island is divided into two distinct neighborhoods: Daniel Island Park and Daniel Island Landing. Daniel Island Park is the more residential of the two areas, with lovely single-family homes set among tree-lined streets and manicured lawns. Daniel Island Landing is the newer neighborhood and features upscale apartments and condominiums overlooking the water.
When you're ready to start your search for the perfect Daniel Island home, be sure to work with an experienced real estate agent who knows the island well. They can help you find the right property in the right neighborhood to fit your needs and budget.
Once you've found a home you like, you'll need to make an offer. Negotiating can be tricky, so be sure to seek the advice of your agent and have them help you craft a competitive offer that will give you the best chance of success.
Finally, when it's time to close on the sale, be sure to review all documents carefully and ask any questions necessary. With knowledgeable real estate professionals by your side, buying a home on Daniel Island should be a smooth and stress-free process.
Things to Do in Daniel Island
There are plenty of things to do in Daniel Island, SC! For starters, the island is home to several golf courses and tennis courts, making it a great place for sports enthusiasts. There are also plenty of shops and restaurants to check out, as well as parks and trails for those who enjoy spending time outdoors. And of course, there's the beach! Whether you're looking to relax or have some fun in the sun, Daniel Island has something for everyone.
Other activities include fishing, kayaking, and paddle boarding. The nearby town of Mount Pleasant also offers attractions such as the South Carolina Aquarium and Patriot's Point Naval & Maritime Museum. And don't forget about the Cooper River Bridge Run and Walk—one of the largest races in the United States! There's plenty to do on Daniel Island, so come explore today.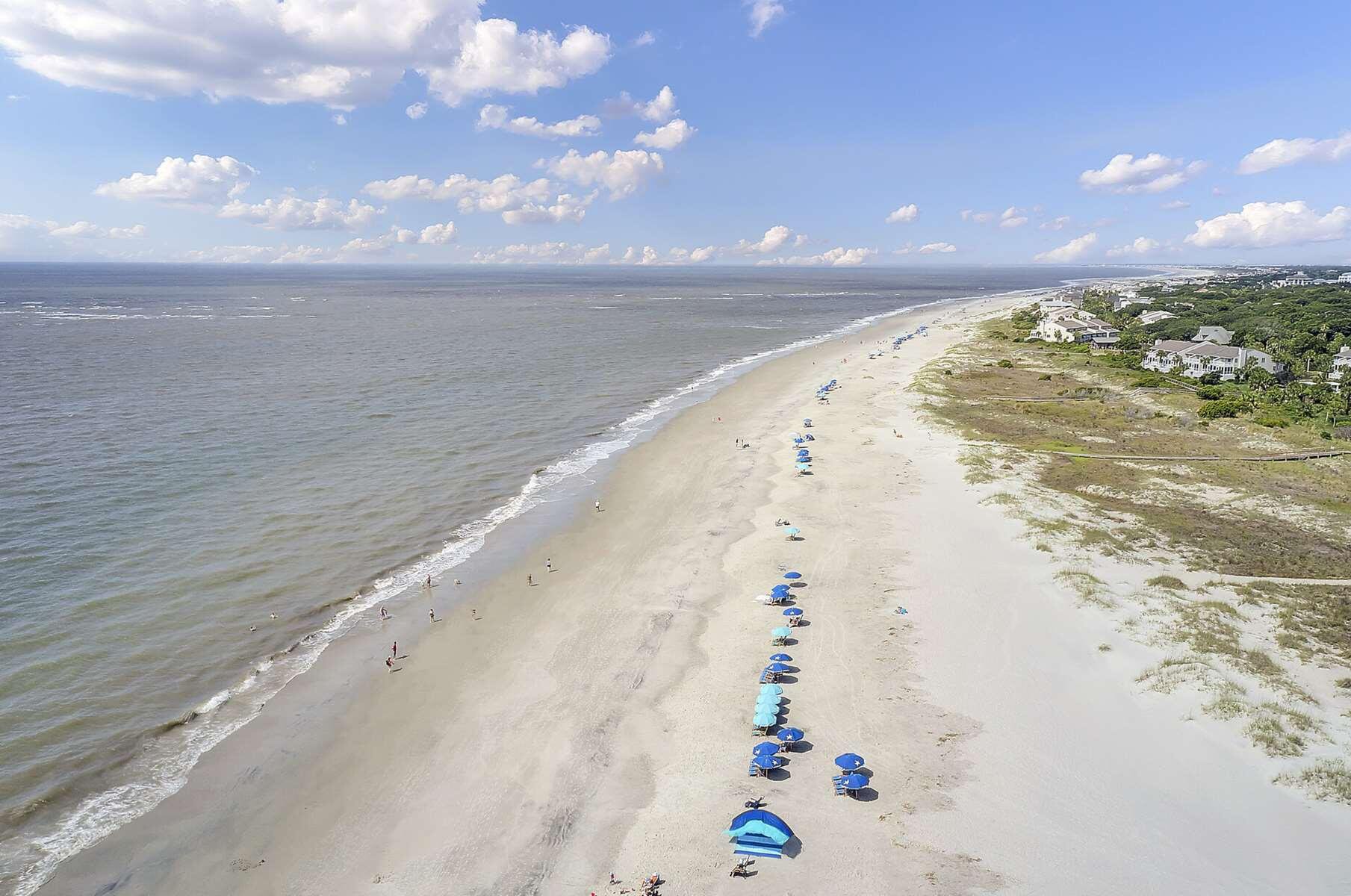 Charleston Popular Searches
What's My Home Worth?
Thinking about selling? Find your home or condo's value in today's market, for free.
Recently Sold on Daniel Island
37 Properties
Address
Beds
Baths
Sq.Ft.
List Price
Sold Price
$/Sq.Ft.
Sold Date
1700 Doldridge Street
Daniel Island, SC 29492
5
6
3,461
$1,450,000
$1,400,000
$404.51
9/28/23
84 Iron Bottom Lane
Daniel Island, SC 29492
6
6
4,938
$2,500,000
$2,480,000
$502.23
9/15/23
216 Brailsford Street
Daniel Island, SC 29492
4
5
4,533
$3,600,000
$3,510,000
$774.32
9/8/23
135 Pier View Street #104
Daniel Island, SC 29492
2
3
1,338
$569,000
$569,000
$425.26
8/31/23
2263 Daniel Island Drive
Daniel Island, SC 29492
3
4
1,842
$849,900
$849,900
$461.40
8/23/23
510 Helmsman Street
Daniel Island, SC 29492
4
4
3,610
$2,340,000
$2,050,000
$567.87
8/18/23
122 Ithecaw Creek Street
Daniel Island, SC 29492
5
5
4,428
$4,195,000
$4,200,000
$948.51
8/11/23
202 Fell Point
Daniel Island, SC 29492
5
6
4,042
$3,395,000
$3,152,500
$779.94
8/4/23
211 N Ladd Court
Daniel Island, SC 29492
4
4
3,178
$1,600,000
$1,525,000
$479.86
7/31/23
319 Gunboat Lane
Daniel Island, SC 29492
4
4
3,995
$3,200,000
$3,200,000
$801.00
7/28/23
23 Woodford Street
Daniel Island, SC 29492
6
6
4,597
$3,900,000
$3,850,000
$837.50
7/27/23
200 River Landing Drive #E102
Daniel Island, SC 29492
2
3
1,675
$745,000
$690,000
$411.94
7/26/23
510 Lesesne Street
Daniel Island, SC 29492
5
6
3,411
$2,200,000
$2,158,970
$632.94
7/20/23
1549 Willtown Street
Daniel Island, SC 29492
4
4
3,388
$1,350,000
$1,325,000
$391.09
7/18/23
130 River Landing Drive #7300
Daniel Island, SC 29492
2
2
1,119
$399,900
$385,000
$344.06
7/14/23
2588 Josiah Street
Daniel Island, SC 29492
4
4
2,781
$1,289,000
$1,215,000
$436.89
7/14/23
309 Chimney Back Street
Daniel Island, SC 29492
6
7
4,523
$2,850,000
$2,750,000
$608.00
7/13/23
1267 Blakeway Street
Daniel Island, SC 29492
5
5
3,540
$1,424,000
$1,335,000
$377.12
7/11/23
125 Pier View Street #305
Daniel Island, SC 29492
2
2
1,167
$477,500
$465,000
$398.46
6/26/23
51 Iron Bottom Lane
Daniel Island, SC 29492
6
7
5,647
$3,350,000
$3,229,260
$571.85
6/20/23
241 Black Powder Lane
Daniel Island, SC 29492
4
4
3,128
$2,200,000
$2,150,000
$687.34
6/15/23
3038 Baltimore Street
Daniel Island, SC 29492
4
4
2,340
$1,100,000
$1,050,000
$448.72
6/7/23
200 River Landing Drive #310h
Daniel Island, SC 29492
3
3
1,605
$680,000
$650,000
$404.98
5/24/23
17 Woodford Street
Daniel Island, SC 29492
4
5
3,835
$2,995,000
$2,950,000
$769.23
5/23/23
1701 Doldridge Street
Daniel Island, SC 29492
4
5
3,268
$1,650,000
$1,650,000
$504.90
5/22/23
310 Longshore Street #638
Daniel Island, SC 29492
3
3
2,454
$1,999,500
$1,850,000
$753.87
5/19/23
863 Dunham Street
Daniel Island, SC 29492
4
5
4,477
$2,750,000
$2,550,000
$569.58
5/2/23
1160 Blakeway Street
Daniel Island, SC 29492
4
3
2,645
$1,199,000
$1,080,000
$408.32
5/1/23
205 King George Street
Daniel Island, SC 29492
5
6
5,359
$2,995,000
$2,615,000
$487.96
4/28/23
502 N Leavitt Court
Daniel Island, SC 29492
4
4
3,752
$2,350,000
$2,300,000
$613.01
4/28/23
1415 Elfe Street
Daniel Island, SC 29492
3
3
2,017
$1,235,000
$1,325,000
$656.92
4/28/23
659 Island Park Drive
Daniel Island, SC 29492
4
5
4,556
$2,750,000
$2,625,000
$576.16
4/25/23
108 Cartright Street
Daniel Island, SC 29492
3
3
1,714
$899,900
$874,000
$509.92
4/14/23
1526 Willtown Street
Daniel Island, SC 29492
4
5
3,420
$1,399,000
$1,350,000
$394.74
4/14/23
1459 Wando Landing Street
Daniel Island, SC 29492
4
4
3,090
$1,250,000
$1,250,000
$404.53
4/13/23
111 Ithecaw Creek Street
Daniel Island, SC 29492
5
7
4,995
$2,850,000
$2,810,000
$562.56
4/4/23
78 Iron Bottom Lane
Daniel Island, SC 29492
5
6
5,610
$2,550,000
$2,495,000
$444.74
4/3/23
Phone(843) 405-3515

Email[email protected]

Address Greg Harrelson Sales Team
Greg Harrelson Sales Team | Century 21 The Harrelson Group Firm
4210 River Oaks Drive, Suite 5
Myrtle Beach, SC 29579